Silver Jewellery Making Workshop Booking Form
Silver Jewellery Information and Booking Form
Spinner Ring Workshop - Individual workshop
You will me making your own sterling silver spinner ring, with either one or two spinning bands in silver and perhaps an optional copper spinning band for contrast. You will be guided through the process first learning how to measure and size your ring, and then on to using traditional silversmithing techniques including sawing, soldering, sanding, texturing and polishing. You can add textures to the main ring, the spinning bands, or to all of them - the choice is yours, and will make you spinner ring truly unique and personal. The cost of the workshop includes tuition, use of all tools and equipment, silver for one ring with up to two narrow spinning bands (approx 10g silver) and light refreshments. Additional silver may be purchase on the day for an additional silver spinning band, time permitting. Maximum number of participants: 2 (Each participant has a fully equipped workstation) Individual workshop : £105.00 (please email me to arrange this) This workshop acts as an introduction to the traditional methods of silver jewellery making (silversmithing), including tools, techniques and tips. The aim of our workshop is to not only introduce you to the silversmithing skills & techniques, but also to create a unique piece of jewellery to take home with you. No previous experience is needed. This workshop is suitable both for beginners and those with some experience of working with silver. Please arrive no more than 15 minutes before the workshop start time. The workshop will finish promptly at the time stated after which we can then take a few minutes to discuss the work you've produced and perhaps take a few photos.
Omerta Studio, Groby, Leicestershire
Pen or pencil and notepad. Apron.
Please wear old clothes, and for health and safety purposes, no open toe shoes. Please ensure long hair is tied back. The studio is heated so wear comfortable clothing.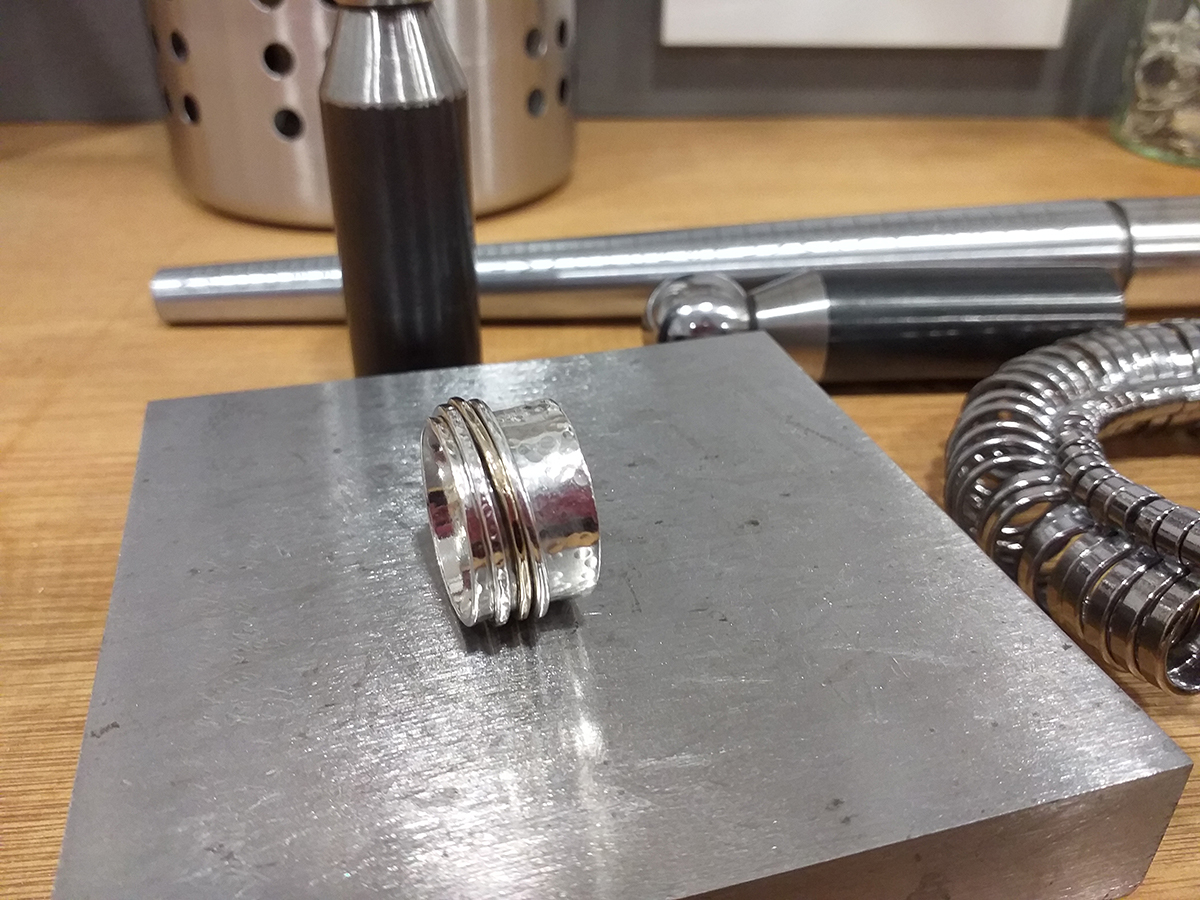 All workshops must be booked and paid for in full in advance. If booking with one of our gift vouchers for part or all of the course fee, the voucher code must be provided at the point of booking. If we cancel a workshop due to illness we will give you as much notice as possible and provide you with a full refund, or you can choose to transfer your booking to a future workshop that still has a space/spaces remaining. However, we cannot be held responsible for any travel or accommodation costs. If for any reason you are unable to attend the workshop on the date that you have booked and that date is more that 7 days away then we can offer a full refund to you. Alternatively, you can transfer to a future workshop date, space permitting. If you wish to cancel your space on a workshop and the date you have booked is less than 7 days away then unfortunately we cannot offer you a refund but you may of course, transfer to a future workshop date, space permitting. Transfers to other workshops will only be permitted once. If you need to cancel please give us as much notice as possible. Our workshop descriptions on this website explain the content of the workshop, the level of previous experience required and any additional costs you may incur. It is your responsibility to ensure you book on a relevant workshop and fully understand what is involved, any additional cots you will have to pay and our terms and conditions. We are not wheelchair accessible and participants with disabilities should enquire about the suitability of the workshops prior to booking. If you book a workshop and you know you have mobility or other issues which may impact on your ability to attend, then subsequently cancel, no refund will be given. It is your responsibility to ensure you fully understand our accessibility limitations before you book. If you arrive and we consider you to be incapable of working safely due to alcohol, drugs or general ill-health or fatigue, you will be excluded from the workshop with no refund. We reserve the right to exclude any participant we feel may be a danger to themselves or other participants. When you book your place you are agreeing to the above terms and conditions.